Discover more from The Beef
Stray thoughts, loose threads, comic books, and other pulp fictions
024 — That Old Black Magic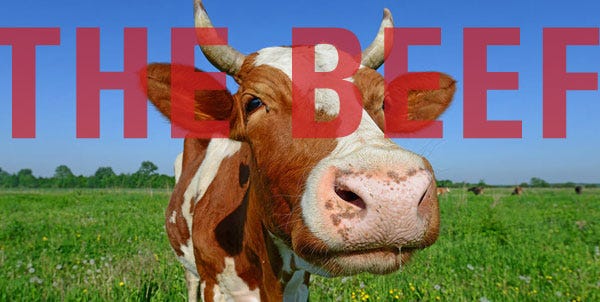 Outside, it's raining. It's been raining since late this morning, ranging from a whispering drizzle of mist to a belligerent thwack of cold and fast-moving drops. No matter where it's been in its transition, the rain has been constant. It has not stopped. Even now, it tap-tap-taps against the glass, its wet breath hissing through the fine-mesh screen in uneven gasps, steaming the edges of the window as the chill outside pushes against the warmth within.

Halloween weather.

I used to think Christmas was my favorite holiday. As a child, it's almost impossible not to love Christmas. The ideas of coziness, togetherness, goodwill, and a pile of presents with your name inscribed on festive tags is irresistible. At some point, though, Christmas becomes stressful, full of expectations of others and on yourself. Shopping, wrapping, the constant weight of a budget you try to rationalize past its limits, all of it starts to outweigh the ideals of Christmas. The pressure starts in October now, with stores pushing cards, pushing decorations, pushing sales, pushing us. Remembering a star and a child born beneath it is the real miracle now.

Somewhere along the way, Thanksgiving took the top spot in my personal ranking. The pilgrims always took a back seat to the cornucopia of food the family would make for the day, and I was never one to shy away from a loaded table. When I was younger, the extended family would often stop by on Thanksgiving (we'd later see them at Christmas when it was time to make tamales, and we'd take bets on who would show up to work, and who'd time their arrival late enough that the only thing left to do was eat). It was like a rolling party, where food and laughter poured out of the kitchen in equal servings. Eventually, age caught up to everyone, with some family members getting old enough to have started families of their own to spend the day with, or elderly enough that going from house to house seemed less like fun and more like a chore. Or, like me, people moved away, and holidays became a bargain between desire and budgets, plane schedules and days off from work.

Halloween, though. Halloween is always ready to share its best trick — it doesn't ask anything of you, but gives you everything you want. If you want to work on an elaborate costume, Halloween encourages your work. Feel like going to a party? Halloween will provide. Or maybe you enjoy manning the door, listening for the children's sing-song, "Trick or treat!" — threat and spoken wish combined — and seeing the joy on tiny heroes and wicked witches as they run to show parents what's been added to their bags of candy? That's Halloween's specialty. Staying in, with the porch lights off as a silent signal to would-be bell-ringers, content to scare yourself with a string of horror movies is a perfectly valid choice, too. Halloween doesn't judge.

I love Halloween, I think, because it's a part of me. It was a part of me before I ever wore my first costume. (A sooty-faced hobo, probably, though the first I remember was a Ben Cooper Scooby-Doo costume when I was in kindergarten.) I love the tension of a scary movie. I love the creepiness of a breezy night, unseen hand caressing bare tree limbs and rattling dry leaves. I love imagining Things out in the night, magical creatures of tooth and fang, waiting for us to believe in them like sinister Tinkerbells so they can come to dark unlife.

It's not even necessary to believe in UFOs or vampires or werewolves or hook-handed hitchhikers, not all the time, like some tinfoil-hatted conspiracy theorist. It's enough just to believe for a second. Just enough to entertain the possibility of maybe. The tingle up your spine, or the sudden tightening of goosebumped skin, doesn't need much. It can be measured in a skipped heartbeat, or the quick turn of the head when you see something in the farthest corner of your eye.

When I was a kid, I heard a recording at school of someone acting out Edgar Allen Poe's The Tell-Tale Heart. It was the first time I can remember feeling the thrill of being scared. The weak autumn sun filtered through the high library windows, but the overhead lights were turned off and the room and its short rows of books were dusky in the shadowed afternoon. As the narrator grew increasingly wild, and the hidden heart beat more and more loudly under the imagined floorboards, my own heart thumped in my chest. Until finally it was as if I could hear my own voice screaming, "Tear up the planks! Here, here! It is the beating of his hideous heart!"

The memory alone is enough to make the hair on my arms stand up. The old man's pale, clouded eye is perfectly clear in my own mind's eye.

After that, I read any Hitchcock anthology, any wack-a-doo "true" account of the supernatural or paranormal, or spooky story I could get my shaking hands on. I knew I'd be sacrificing sleep on the altar of an overactive imagination, but it was worth it. Today, I still read horror novels and comics, and I follow links about chupacabras and haunted hotels. I watch movies about the possessed, the alien, and the insane. Because after that introduction to Poe, I wanted to have that feeling all the time. I wanted it to be Halloween forever.

And, in my heart, it is.

Halloween is fun. It's got that tinge of the sinister, of the dangerous, giving you permission to be weird, to grin in the dark and its potential for maybe ... but with the knowledge the darkness can be banished with the flick of a light switch. That there's nothing more dangerous in the closet than a shaggy mop. Nothing sinister about that sudden, quiet crack coming from the empty room down the hall. There's reassurance knowing you're never really at risk. Nothing bad is actually going to happen. The gentle, insistent scratching at the rain-speckled window isn't some unexplained thing trying to find it's way out of the wet night and into the single pool of light in this apartment.

Right?
 
---
MOVING ON
Speaking of the weather, I was talking to Mom the other day and she was telling me how it was supposed to be in the low-80s in El Paso. It made me sad, thinking how it was still basically summer in the middle of October. I know some people love the heat, but man, that ain't me.
 
SCREEN
I think I mentioned it in the last newsletter, but I've been watching a lot of classic (and not-so-classic) horror movies on TV almost since the beginning of the month. It's been great, and I've been able to see movies I never even heard of, much less watched before. One of the highlights has been Tales From the Crypt, a 1972 anthology movie featuring five suitably creepy and surprisingly ruthlessness stories told to a hapless, and ultimately doomed, audience. Plus, a young Joan Collins! Anyone who's seen Creepshow will recognize the format (though Crypt beat it by a good 10 years), and will get just as much enjoyment from this more dour film as from its campy cousin.
 
SOUNDS
I haven't been listening to a lot of music lately, and instead I've been trying to catch up on all the podcasts I've been letting languish in my queue. OH! Which reminds me — I'll be a guest on Rob Kelly's Film and Water Podcast later next week. On Halloween, to be exact. I don't want to spoil it, but I will tell you I had a ton of fun talking with Rob, and I think you'll have fun listening to it, too. OK, one hint: DRIVE-IN DOUBLE FEATURE. You don't want to miss it, so why not subscribe to the Fire and Water Podcast Network now?
 
PAGES
In much the same way I haven't been listening to music lately, I also haven't been reading much more than the news online lately, which isn't great for my mental health so I'm looking forward to getting back to books and comics soon. I do have a lot of books waiting for me, though, and some of the ones I'm looking forward to most include:
We'll see if my discipline matches my ambitions. Before all that, I'm planning to read Bram Stoker's classic, Dracula, just to get into that Halloween spirit.
 
IMAGE OF THE WEEK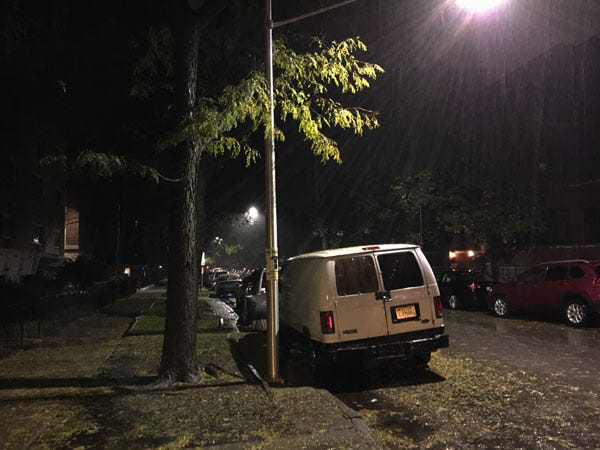 What the walk home looked like tonight. I don't know what's creepier — the rain-drenched darkness, or that white van.
---
SHARING IS CARING

My podcasts — PlastiCast and The Mirror Factory — can proudly be found on The Fire and Water Podcast Network. I'm also a semi-frequent guest on other FW podcasts, and a search of my name will turn those up. There are a lot of great shows on the Network, so check 'em out.

On Twitter you can find me at my personal account, the Plastic Man account, and even at this one for The Mirror Factory. You can also follow me on Facebook and Instagram.
Tell your friends to subscribe to The Beef at www.tinyletter.com/maxromero, and be sure to send me your comments, media recommendations, and virtual high-fives, and we'll talk again soon. Thanks — see you next week.