Discover more from The Beef
Stray thoughts, loose threads, comic books, and other pulp fictions
019 — Butterflies and shovels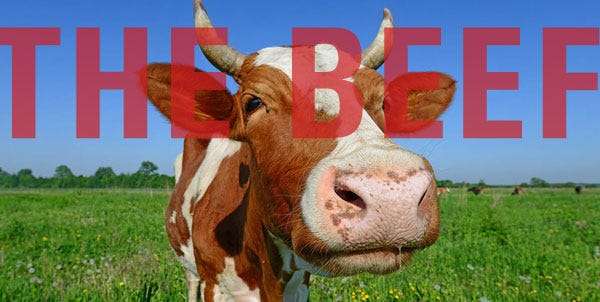 I was four years old when I learned cruelty.

It was late Easter morning, and my younger sister and I were playing under the bright desert sky in my grandparent's backyard. We had already gone to church, candy-filled Easter baskets had been presented, and brightly painted eggs had been hidden and discovered. Still dressed in our Sunday best, my sister and I had been sent outside to play while the adults took care of whatever grown-ups did.

Our Easter baskets were actually deep buckets, the kind you'd give kids to take to the beach (an old El Paso joke: The city's got plenty of beach, it just doesn't have any water). The hard-boiled eggs had already been put in the fridge, and the candy was piled up in a bowl on the kitchen table. The AstroTurf-green plastic grass would've been thrown away if me and my sister hadn't insisted we needed it for something or other. I'm pretty sure my bucket was blue, and my sister's was red, though I might have that backward. I know they both came with small, square shovels.

So when ran around the backyard, carrying our buckets, sitting on them when we got tired, and finally digging holes in the sandy ground because that's how you got to China. Tired out enough to pay attention to our surroundings, we noticed we were surrounded by tiny, delicate butterflies. They were small and white, floating on the warming air with a peacefulness and purity embodying the best values associated with Easter. We chased them, jumping up at them, and they always managed to stay just out of reach. I remember laughing, delighted in the way children are when something wonderful and magical introduces itself.

Then, with our hard plastic shovels in our hands, we started swatting butterflies out of the air.

I don't know why. The cliché is that children are cruel, but it still doesn't explain why we took something beautiful and slammed everything miraculous out of it. It doesn't explain why we pounced on the downed butterflies and pounded them with our shovels, over and over again. It doesn't explain why we thought it was so funny.

Mom came out and asked us what we thought we were doing. She said it in a tone of voice that has stayed with me ever since — a combination of exasperation and disappointment that made my stomach sink and turned the bright sunniness into a harsh, hot spotlight. Somehow, in a way I was capable of expressing, I knew I had done something Wrong. And it was something which couldn't be fixed, something that couldn't be reversed or replaced. I had taken something alive and marvelous, and I destroyed it for no other reason than I could, leaving it broken and dull in the dirt.

I learned cruelty that Easter. I also learned guilt and shame.

I was young, and my sister was even younger. (My sister, who in a lot of ways in much stronger and less angsty than I am, probably doesn't even remember any of this. Besides, she was three.) I understand intellectually how none of this really matters, not in any big picture kind of way. I know I wouldn't hold anyone else responsible for anything they did when they were barely more than toddlers. It's not, by any measure, a big deal.

But I also know what happened that afternoon fundamentally shaped the kind of person I would become, and the kind of person I still try to be. Because I do not understand cruelty. I recognize it. I can see how trauma or bad wiring can lead toward it. But I don't know why anyone would seek it out. I don't know why anyone would want to practice it as a choice, whether for power or money or simple, stupid self-esteem.

Cruelty is awful, not only for the people who suffer it, but also for those who practice it. Or am I wrong about that? Do people like to be cruel? Do they enjoy it? I look at desperate families being separated, I look at kids in cages, I see innocent people being gunned down because of their ethnicity, I see people who live in alleyways and are invisible to the people walking past them ... and I wonder.

A friend of mine, Scott, will point out news articles about things like this and has a simple mantra in response: "The cruelty is the point."

It's hard not to believe it.

For a lot of people, I'm absolutely positive that's true. The cruelty is the point — getting rich, getting a powerful position, whatever — is just the gravy. Hurting people — hurting people — is what gets the adrenaline pumping, what puts a smile across tight, dead faces.

But I don't believe it's true for everybody. I can't believe that, as much as I may want to sometimes. Maybe it's in our nature, something we don't have to be taught — an ashen callous hardwired into our system. But I don't believe our "nature" is something that can't be overcome. It's not something we're born with and doomed to be our entire lives. We can be more than that.

If we try. If we remember. If we learn something better.
 
---
MOVING ON
Someday I'll write something loose and fun, and believe me I'm looking forward to that as much as you probably are, too. In the meantime, I subscribe to a few other newsletters and one of my favorites is The Signal Watch Planet. The Planet is written by a friend of mine, Ryan, and he casts a wide net of fun — his podcast, noir movies, current events, and generally whatever he's been up to lately is fair game. Do yourself a favor and subscribe here (but don't stop subscribing to The Beef, ya jerks).
 
SCREEN
We haven't been to the movies lately, and for the life of me I can't remember what I've been watching TV-wise. One thing that has stuck, though, is Fleabag. There's been some buzz about this BBC Three/Amazon Original show, and lemme tell you, believe the hype. Phoebe Waller-Bridge is fantastic as the title character, wonderfully brittle and incredibly charming even though she is, honestly, kind of a terrible person. We're only a couple of episodes into the first season, but I can already tell this is a series we're going to burn through.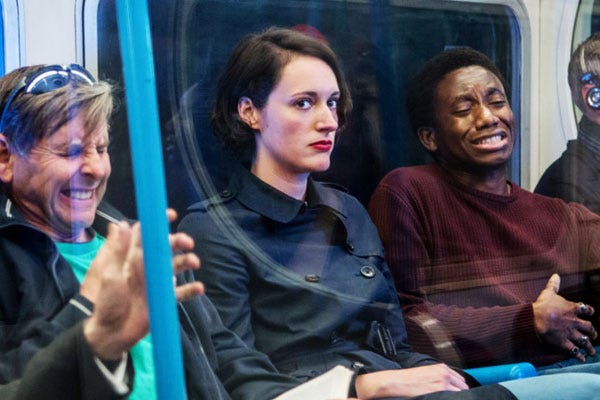 SOUNDS
OH MAN OH MAN OH MAN. Out of nowhere, Missy Elliott jumped out of a wormhole or descended a heavenly ladder or something and blessed us poor heathens with a new album, her first since her last collection of music released back in 2005. That's 14 years, y'all. No wonder this world is in such a state. Luckily, Dr. Elliott is here to save us, and she has lost none of her power in the last decade-plus. She also released a video for "Throw It Back", the first song off Iconology, and I can't even. I've actually lost count of how many times I've watched it. So go check it out, and then go listen to the five-song collection for free on Spotify.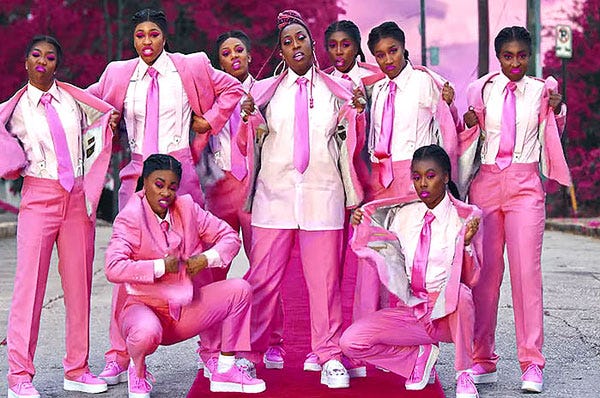 PAGES
I started reading a couple of books recently — Songs of America, by Jon Meacham and Tim McGraw; and Death of the Planet of the Apes, by Andrew E.C. Gaska. I haven't gotten far enough into either one to have an opinion yet, but I'm looking forward to both. Songs of America traces the music that has been important in this country before it was even a country, and covers everything from rah-rah go-get-'em anthems to protest songs that inspire people to take to the streets. I've been wondering what kind of effect current events are going to have on music, which got me thinking about where "protest" songs have been since the 80s stuff inspired by the Cold War (answer: hip-hop has been, and still is, consistently full of powerful, important protest music). It should be an interesting read.

I make no apologies for my love of genre movies and books, and the Planet of the Apes franchise may very well be my favorite. (Fun fact: The very first playset and action figures I had were from Planet of the Apes; they'd get pushed aside by Star Wars soon enough, but I chalk that up to youthful indiscretion and a love for the pew-pew.) Gaska also wrote Conspiracy of the Planet of the Apes, and like that book, Death of the Planet of the Apes doesn't try to reinvent the classic storyline of the movies as much as fill in the blanks. It picks up with what Taylor's been up to following the end of the original Planet of the Apes film and goes into its sequel, Beneath the Planet of the Apes, with Gaska seeming to show real respect for the source material, which I appreciate. I won't lie — this is probably going to the top of the stack.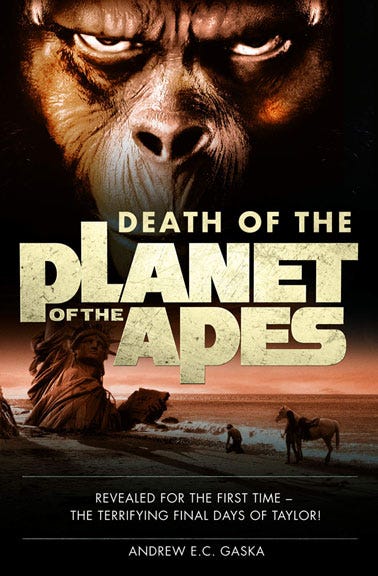 IMAGE OF THE WEEK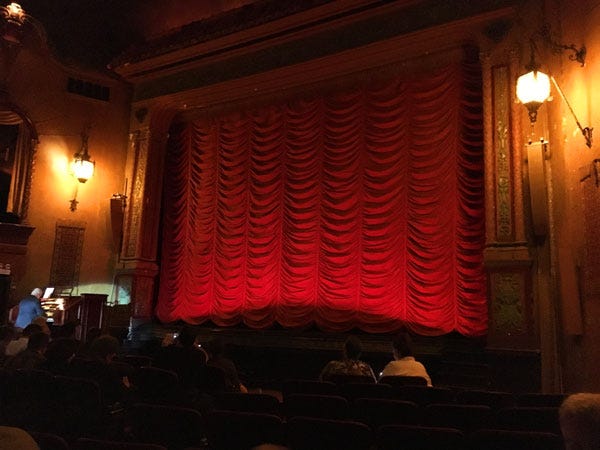 This is a terrible picture of a great movie house here in Chicago, the Music Box Theatre. The Music Box is celebrating its 90th anniversary, and we were there for its screening of The Fugitive, a film near and dear to me and Sandy. There was also a Q&A with director Andrew Davis after the movie (I think he was sitting in front of me during the screening — he's tall). It was a lot of fun, and I can't wait to go back. If pal and movie aficionado Rob Kelly comes to Chicago for a visit like he's been promising, we'll be sure to bring him here. Oh! And that guy playing the organ at the bottom left? That's Dennis Scott, and he's always there on weekends to play before and after shows!
---

SHARING IS CARING

My podcasts — PlastiCast and The Mirror Factory — can proudly be found on The Fire and Water Podcast Network. I'm also a semi-frequent guest on other FW podcasts, and a search of my name will turn those up. There are a lot of great shows on the Network, so check 'em out.  
On Twitter you can find me at my personal account, the Plastic Man account, and even at this one for The Mirror Factory. You can also follow me on Facebook and Instagram.
  Tell your friends to subscribe to The Beef at www.tinyletter.com/maxromero, and be sure to send me your comments, media recommendations, and virtual high-fives, and we'll talk again soon. Thanks. See you next week.