Discover more from The Beef
Stray thoughts, loose threads, comic books, and other pulp fictions
017 — A Cloud Over El Paso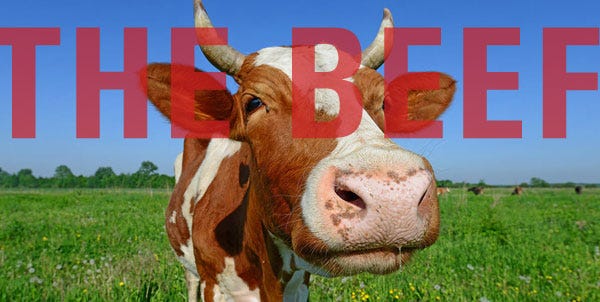 Right now, we don't know anything.

As I write this, the news is still coming out of El Paso, where there's been a mass shooting at one of the busiest malls in my hometown. We don't know how many people have been injured or killed — the latest numbers had the total at 19 dead, 40 wounded. We don't know how many gunmen there were — there have been reports of anywhere from one to three people in custody. We don't know who the shooter is, and we don't know why he did it — and we probably never will. Not in any real way. Nothing that will balance the horror and confusion we face, the chasm we find ourselves tottering over, a hole hungry and deep and never filled, no matter how much grave dirt we throw into it.

This is my home, and someone has robbed it of something indefinable and precious. It will never feel safe in the same way again.
I'm about six years old. My mom is handing me a silver cap gun, the same one she played with as a child. It glints silver and dazzles with its heavy filigree. It won't be my last cap gun, but it will always be my favorite. The hammer is broken, so I concentrate on my gun spinning and quick-draw. This is before toy pistols had to be brightly covered or have safety-orange tips.

Sandy has already cried at least twice while watching the news. I've felt tears well up, but mostly I feel a heaviness in my chest, which slips down into my belly and makes me nauseated. It's not just the death in what has been touted for years as one of the safest cities in the nation. It's the senselessness. I just don't understand it. I didn't understand it when it happened at the Gilroy Garlic Festival in California just six days ago.  I didn't understand it when it happened two days later at another Walmart in Southaven, Mississippi. There have been more mass shootings this year than there have been days, 249 in the last 215 days.

How does that make any sense?
I'm 13, and I'm cradling a Red Ryder BB gun. Inspired by the movie A Christmas Story and his own childhood spent toting a Red Ryder, Dad has gotten me the air rifle as a Christmas gift. I'm thrilled with it, and feel a connection to my father that was more rare in those days. He shows me how to load it, how to cock it, where the safety is nestled behind the trigger. He was a marksman in the Air Force, so he also shows me how to carry it barrel down, and tells me, very seriously, "Never point it at anything you don't plan to shoot. Never point it at a living thing." A few days later I'm shooting cattails with a friend in the ditch near my house. He takes aim at a bird sitting on a phone wire, and goes pale when it cartwheels gracelessly to the ground. He turns to me, tears and guilt in his eyes, and tells me he has to go home.

What is the American fascination with guns? Why is it about them that makes them so hard to give up? Are they props to announce our manhood? Our patriotism? Our superiority over those who would make us feel like less? And how do we feel when, finally, our guns cough out their copper-jacketed argument and the only response to be made is made in blood? I know several people who own guns, and most of them have multiple rifles and pistols squirreled away, ostensibly safe in their safes or shackled by locks. I like these people. I also know many of the mass shooters in the relatively shallow past have raided their parent's and grandparent's armories, skirting weak gun laws to fill in the gaps of their assault plans. And I don't understand how anyone could want a gun in their home.
I'm a teenager, probably around 16, and Dad is showing me the rifle he got from some guy in a bar, and the pistol he keeps hidden in the space under the heater. He's taking me to the desert to do some target shooting, and he doesn't know I've already taken the pistol out and shown it to friends when the house was empty. Once we get there, the rifle feels familiar and comfortable, but the pistol feels heavy and dangerous — like a coiled snake ready to snap back and bite at any moment. I'm good with the rifle, a modest .22, and an obvious amateur with the .38. There's a sickening satisfaction to slamming the clip into the pistol, and I never want to do it again.

One of the things you can say about El Paso — whether as a compliment or as an insult — is it never really changes. It's a large city insisting on acting like a smaller, constantly drowsy city. Even now, I'm not sure this will wake the city up. My hometown has an almost superhuman ability to adhere to the status quo, to keep things "the way they've always been." People like to say El Paso is a diverse, liberal city, but that's a lie. It's about 80 percent Latino, and 80 percent of anything is the opposite of diversity. It's liberal, but only in the ways that suit it — it's highly Catholic, with all the baggage that comes with it, and try to introduce change meant to primarily benefit others, and you'll hear about it. I already know this will make at least half of El Paso finger their safeties nervously. I know ugly rumors will never completely fade. The phantom security blanket will be torn away, and half of the population will try to pretend it never happened, and the rest will consider buying another gun. Whether either side realizes it, they'll all have been exposed.
It's the July after high school graduation, and someone is pointing a pistol at me from their open truck window. It's the tail-end of the Fourth of July, and me and Victor and Hugo have been reduced to throwing Black Cats at each other. There are more than a few duds on the road we're chasing each other across, and when the truck drives by the breeze from its passing must set one of them off. The truck screeches to a stop, and roars back to us in reverse. The man in the truck is faceless in the shadows, but I can see the shine of the barrel of his pistol in the orange glow of the streetlight. "Do you think that's fucking funny? Throwing firecrackers at my truck? You think this is fucking funny?" I hear the hammer go back. We all have our heads down, hands up, murmuring explanations of how we didn't do anything, take it easy man, please. He points the gun at each of us in turn before roaring down the street and out of sight. We get in our car and drive in the opposite direction before he can come back.

It's hard not to flip-flop between feeling an overwhelming sadness and a white-hot fury. El Paso — like any other city or town where this has happened — didn't deserve this. As we watched the news, Sandy and I agreed that even if we didn't know any of the people who were injured or killed, we more than likely know people who will know them. El Paso is just that kind of town. So I sit here and wonder when I'll hear a familiar name, or when my sister will map out how someone I went to high school with has been affected. I try to wrap my head around the enormity of this, the horrific mystery of it, and I dread what the answers will eventually be. I mourn the people who have been lost, and feel pain for the ones who are lying in hospital beds as I type this. I despair at the hate and stunted humanity making something like this possible, and the knowledge none of this will ever make any sense. We will never have an answer for the most fundamental question: Why?
There has been a mass shooting in El Paso. And we don't know anything.