Discover more from The Beef
Stray thoughts, loose threads, comic books, and other pulp fictions
014 — Slow Boat to Xochimilco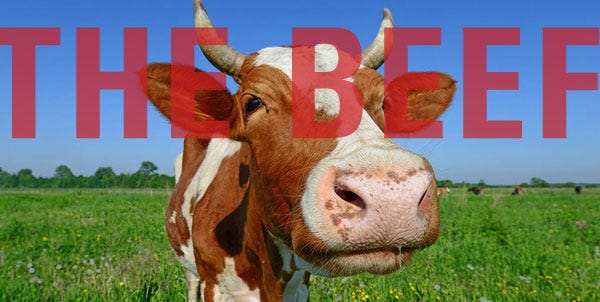 In a few days, I'll be on a plane headed toward Mexico City.

It's one of my favorite cities to visit, and a place I recommend everyone see at least once. It's everything you might've heard — enormous, vibrant, culturally modern and ancient, a place where the ruins of an uncovered Aztec temple squat in the middle of a busy subway station. It's truly a world-class city. It's also a place that, from the moment I first stepped off after a 24-hour bus ride, felt like home.

I'm a third-generation American, and proud of being from the United States, in spite of the country's flaws and cruelties. But my parents never let me forget a crucial detail — I'm not just an American, I'm a Mexican-American. My family's roots, language, and culture reflects and informs a large part of who I am, and those things come from Mexico.

It isn't always easy, even when you come from a community perpetually hovering around 80 percent Mexican-American and sharing the band of scar tissue that is the El Paso/Juarez border. It's only a cliché because it's true: Being Mexican-American means not being Mexican enough for the Mexicans, and not American enough for the Americans. In El Paso it meant people incessantly complaining about the "ChihMex" and "FrontChihs" (local slurs lifted from Mexican license plates) who didn't know how to drive on freeways, and rooting for the Dallas Cowboys with a desperate fervor because everyone wanted to be a part of "America's Team." Never mind if your grandmother still lived in Juarez — you weren't from there.

In Juarez being an American meant you must be rich, even if your family struggled to pay the bills from month to month, and being called gringo no matter how dark your skin or how good your Spanish. (For the record, my Spanish is embarrassingly bad.) Later, Sandy would assure me being labeled a gringo wasn't a criticism. It's just a matter of being from the United States, not a refutation of my claim to "Mexican-ness." But it still feels like a denial, a pitying, slowly shaking head and a hand firmly on an invisible velvet rope; sorry, not Mexican enough. Go back over the bridge — you aren't from here.

Still, it's easy to take things for granted when you grow up with them, and Juarez never really felt like Mexico, anyway. It didn't have the enormity of another country or the pleasant vertigo of Somewhere Else. It never felt foreign — it was just Juarez. It was the city across the river, where it had always been; the place I could see from the neighborhood park three blocks from my house. The place where we bought cheese and tortillas and cases of Coke in refundable glass bottles. Where we would wait in mile-long lines to buy gas during the 1979 energy crisis. Where Grandpa went to get his boots resoled. Juarez was another part of our larger shared community.

Mexico City was different, and going there for the first time was both exciting and a little intimidating. It is huge, a never-ending city stretching out farther than you can see. People there, I thought, weren't going to be patient with a cafe con leche gringo who could barely fumble through Spanish. After a lifetime of blending in, I was suddenly afraid I was going to stick out like a Big Mac on fire.

But Sandy is from the D.F. (a nickname taken from what, until recently, was its official designation as the Distrito Federal — think of it as Mexico's version of D.C.). I wanted to see her home. I wanted to see the place which had shaped her.

And I also wanted to see it for myself. A part of me had to see it. It was deeper than being born in Southern California or having been raised in Southwest Texas. It was about going to the place where the artifacts of my life — those ephemeral inheritances unknown family members brought with them from some misty, history-bound place — had first been collected. A part of myself longed to see the swampy ground where it had originally taken root, even if it was generations removed. I was a cutting wanting to go back to the tree it had been clipped off from.

When I got there I felt it almost immediately, a sense of being somewhere completely new, yet undeniably familiar. There were whispered echoes of Juarez — or maybe it was the other way around — but on a larger, older scale. Here you could instantly see the prints left by Spain's grasping fingers (and the influence the Moors held over them), and the still-firm grip of the Aztecs. Instead of being overwhelming, all the people and noise and traffic and art, the grand spires and tiny storefronts, the flash of fashion and the slap of sandals, all of it felt — comfortable. It wasn't foreign at all.

It was as recognizable as my own reflection.

My first trip to the D.F. was for our honeymoon, so it's easy to assume part of my fondness comes from the excitement and hopeful expectation of starting a new marriage. I can't deny my feelings at the time are tied up with my memories of Mexico City. But I've been there again since then, and my feelings for Mexico City haven't changed. If anything, they've gotten stronger. Even if I wasn't born or raised in Mexico, and it can never really be home, it's still a part of who I am.

Porque yo soy Mexicano. And I'm an American. And I'm at home with being both.
 
---
MOVING ON
So my pal Luis is visiting Chicago from Houston, and we've been friends online for so long I would've sworn we had worked together either at the college paper or the local daily. But nope, we met in person for the first time yesterday. How weird and awesome is that?
 
SCREEN
I know without a doubt I've been watching TV all week, but I can't remember a single thing I've seen. Law & Order, probably? I'm almost sure some M*A*S*H is mixed up in there, along with reruns of Futurama and Bob's Burgers. Oh, wait! The new season of Claws has started! I think I've gone on and on about this show before, so I'll just remind y'all that it's a wonderfully over-the-top show about manicurists who, almost in spite of themselves, are becoming the crime queens of Manatee County, Florida. The all-female lead cast is fantastic, with characters who are multidimensional and all-too human, and who find themselves in situations swinging from hilarious to violently dangerous. The show is three episodes into its third season, and the first two seasons are available for streaming. If you haven't yet, get on board.


 
SOUNDS
I've been indulging my nostalgia again, this time with the 1993 Butthole Surfers album Independent Worm Saloon. Sometimes I like to think of myself as a fan of the Surfers, but the truth is I'm really just a fan of this album. It's got that early-90s fuzz over both vocals and guitars, a sound I've always liked. The songs themselves go from contemplative and surreal ballads to a track titled — appropriately — "The Annoying Song." IWS has the unapologetic, assaultive sound experiments of previous albums without the pointless noodling, and a mature, self-assuredness that invites listeners to take the Butthole Surfers a little more seriously. Also, it'll just rock your nuts off. So, you know, hold onto those.


 
PAGES
I'm still working my way through God Save Texas, but in between I read Lowriders to the Center of the Earth, a sequel to the graphic novel Lowriders in Space. Lowriders is deceptively simple; a graphic novel aimed primarily at young adult readers, with straightforward plots written by author Cathy Camper and illustrated by Raul the Third almost entirely in blue, black, and red ballpoint. But wow, is there so much more to it than that. The characters — anthropomorphic owners of a garage where they do repairs and detailing — are resolutely confident in themselves and each other. They code-switch, flipping from English to Spanish right in the middle of sentences, the way I heard Spanglish spoken growing up. And the artwork has the thinness of a sketch done on notebook paper, but with a depth and detail that is stunning. I hesitate to use words like "important" — especially about a book in which the gang try to rescue their cat from Mictlantecuhtli, the Aztec god of the underworld — but the Lowriders series feels that way, and I'm happy and inspired to know it's out there. And hey, Raul the Third is originally from El Paso, and city landmarks and icons such as the Thunderbird on the Mountain, the Plaza lagartos, and Juan Gabriel all make cameos.


 
IMAGE OF THE WEEK
The rain has been bad enough lately that secrets are being washed up to the surface, like these old brick cobblestones rising from the back alley asphalt they've been buried under.
---

SHARING IS CARING

My podcasts — PlastiCast and The Mirror Factory — can proudly be found on The Fire and Water Podcast Network. I'm also a semi-frequent guest on other FW podcasts, and a search of my name will turn those up. There are a lot of great shows on the Network, so check 'em out.
 
On Twitter you can find me at my personal account, the Plastic Man account, and even at this one for The Mirror Factory. You can also follow me on Facebook and Instagram.
Tell your friends to subscribe to 
The Beef
 at 
www.tinyletter.com/maxromero
, and be sure to send me your comments, media recommendations, and virtual high-fives, and we'll talk again soon. Thanks. See you next week.